Last updated
11 months ago
Grace 2: How Greek Word Charis Was Used
04-29-2019
Key Verse
Eph 2: 8 "For it is by grace (charis) you have been saved through faith, and this not from yourselves; it is the gift of God,  9 not by works, so that no one can boast.  10 For we are God's workmanship, created in Christ Jesus to do good works, which God prepared in advance as our way of life."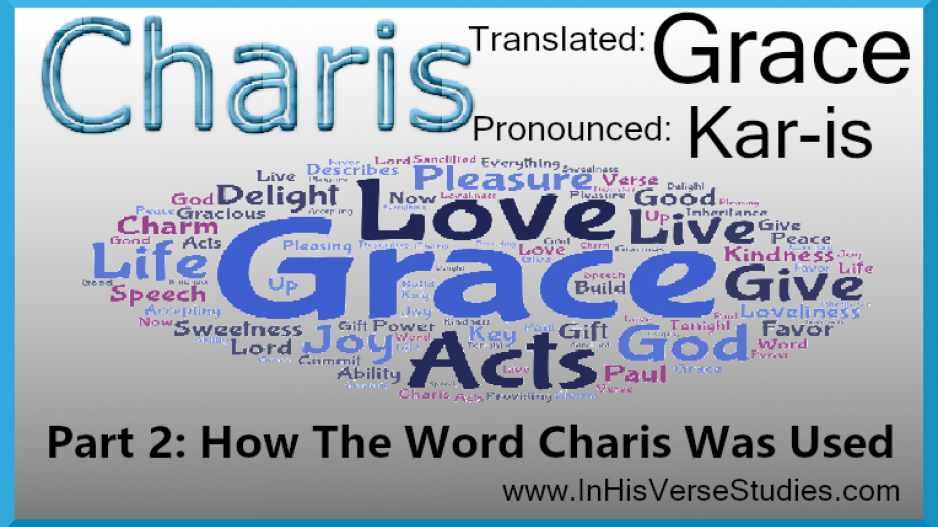 An overview of how the Greek word, charis, translated Grace is used in the New Testament. Grace is central to our faith, and was not used extensively until after the resurrection of Christ, since the gift of eternal life was not readily available until the Holy Spirt was poured out on the church. Grace was also used as a way of saying thanks and also of giving offerings.
In the next few sessions, we'll be looking at the basic usage of charis, translated grace in the New Testament. As a reminder, I'm referring to Thayer's definition of it - "that which affords joy, pleasure, delight, sweetness, charm, loveliness: grace of speech, good will, loving-kindness, favor."
Grace is the opposite of works and sits at the center of your life of faith. So central, Paul says Grace, charis, is the way you have been saved. In this first verse, we see Paul saying grace has saved us. He contrasts it with works, declaring we cannot earn our salvation. He also says this grace, charis, is a gift from God.  As you walk out your Christian life, it's very important to understand that the things you cannot really do anything to save yourself, your works and the outcome of them are from God.  Eph 2: 8 "For it is by grace (charis) you have been saved through faith, and this not from yourselves; it is the gift of God,  9 not by works, so that no one can boast.  10 For we are God's workmanship, created in Christ Jesus to do good works, which God prepared in advance as our way of life."
Grace's prayer says "write on my heart Lord Jesus, the things you want me to be and do". To understand how I got to this summary, read this scripture in reverse order. Paul ends by saying God has prepared in advance good works that we should be doing as a way of life. A consistent Biblical warning is that these works must not be done from our own motivation; so much that in Gal 3:10, Paul calls living by the law, or rules, as 'living under a curse'. Rather, Paul teaches us we are his workmanship, in Greek, poiema (one of the roots of the English word 'poem'). Poiema means "a performer; poet" or "a maker, producer or author." It's God's grace that writes on your life. His grace is in direct contrast to works that we can boast in. That's what grace does. Writes God's 'joy, pleasure, delight, sweetness, charm, loveliness' and all the attributes of who he is in your heart.
Paul continues this teaching on grace to proclaim what it truly is: The cure for the trespass of one man, and the solution to the sin that causes every man to live his life under a death sentence.  Paul says this grace is received in a super-abundant quality, Greek, perisseia, a word used of the leftovers from feeding the five thousand.  Grace also gives us the gift of righteousness; the Spirit's ability to change our lives, enter his household of purity. Rom 5: 17 "For if, by the trespass of the one man, death reigned through that one man, how much more will those who receive an abundance (perisseia) of grace (charis) and of the gift of righteousness reign in life through the one man, Jesus Christ!  18 Therefore, just as one trespass brought condemnation for all men, so also one act of righteousness brought justification and life for all men."
Grace also meant thankfulness to the Greeks. Charis comes from a root word, chara, meaning cheerfulness and it was built into a number of other words meaning gratitude. We'll go into more detail later, but here's a spot where grace was used directly to mean thanksgiving. 2 Cor 2:14 "But thanks be (charis) to God, who always leads us triumphantly as captives in Christ and through us spreads everywhere the fragrance of the knowledge of Him.  15 For we are to God the sweet aroma of Christ among those who are being saved and those who are perishing."
Although less common, grace is also used of God's financial gifts to us, the provision we need and the offerings we give. In 2 Cor 8:9, Paul says that "you know the grace (charis) of our Lord Jesus Christ, that though He was rich, yet for your sakes He became poor, so that you through His poverty might become rich." The word 'rich' means prosperous and can be used both literally and figuratively.  Paul also refers to a cash offering as grace in 1 Cor 16:2 "On the first day of every week, each of you should set aside a portion of his income, saving it up, so that when I come no collections will be needed.  3 Then, on my arrival, I will send letters with those you recommend to carry your gift (charis) to Jerusalem."
In most studies, you'll probably hear me mention often that scripture refers to grace as a substance, just like the love of God and presence of the Holy Spirit. Grace is something that you can bless others with 2 Cor 13:14 "May the grace (charis) of the Lord Jesus Christ, and the love of God, and the fellowship of the Holy Spirit be with all of you."
Definitions are from InHisVerse Bible (IHV) - www.InHisVerse.com.
Copyright © 2019, 2020, Jim Olsen, Olsen's Apps LLC, All Rights Reserved
Bible Quotations From: The Holy Bible, Berean Study Bible, BSB (BereanBible.com). Copyright ©2016, 2019 by Bible Hub. Unless Otherwise Noted.